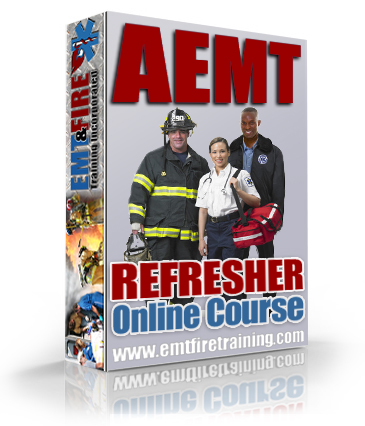 Who is this AEMT Refresher for?
•You need an AEMT Refresher to maintain your NREMT certification.
•You failed the NREMT exam 3 times and need remedial training.
•Your NREMT has expired and you are needing to apply under the NREMT lapsed certificate policy.
Passing this NREMT accepted and CAPCE approved
, 36 hour AEMT refresher course will:
•Give you 36 hours of CAPCE credit toward your NREMT AEMT refresher.
•Allow you to take the NREMT examination 3 more times.
CAUTION: Other companies claim to provide a true AEMT Refresher, yet do not offer interactive instructor-led sessions (VILT). The NREMT REQUIRES that your refresher training have at least 26 hours of instructor-led instruction. This can be accomplished in a traditional or virtual classroom. IF IN DOUBT, contact the NREMT to verify!
This 36 hour course is CAPCE accredited and NREMT approved. Included are 36 hours of online Virtual Instructor Led Training (VILT) lectures held in our virtual classroom. These hours are broken up into 18 individual modules that cover 2 hours of content each. Students may complete the lectures in any order. Check the VILT CALENDER for dates of VILT lectures.
Students must complete each lecture and pass all exams with a score of 80% or better. (Students are allowed multiple exam attempts).
Upon successful completion of the lectures, quizzes, and course evaluation, a certificate of completion will be made available inside the online learning management system. Check the

for lecture dates. Each lecture is held multiple times each month.
AEMT refresher - Online Virtual Classroom Lecture Facts:
Attendance will be taken throughout the AEMT refresher lectures (VILT). If your attendance cannot be verified you will not be given credit for that time.
Each class held in the virtual classroom will consist of powerpoint lectures AND an assessment exam corresponding to each.
No verbal questions will be permitted until completion of the lecture, however, Instructors will be taking questions via chat at all times. This class format allows students to get questions answered immediately while not stopping the lecture. More refresher material is covered and students can monitor chat questions and answers if they choose.
If you intend on asking verbal questions at the completion of each lecture, you must have headphones and a mic. Using your computers speakers and built in mic is not permitted as they can interfere with each other and may cause inaudible speech and feedback.
Internet connection problems. We understand that issues may arise with connectivity or software during the instructor led lectures in the virtual classroom. If something unforeseen interferes with a students ability to view and or hear the lectures, alternatives arrangements can be made to view the lectures in a different format or at a different time.
The NREMT requires that 26 hours of a 36 hour AEMT Refresher be delivered in an instructor led format. This AEMT Refresher program delivers that and more! Please see the current NREMT AEMT Recertification Policy for all requirements. This AEMT refresher does NOT provide practical skills validation. Your training officer or medical director must help you fulfill this requirement. Please contact us with any questions at:
1-888-783-8495 or courses@emtfiretraining.com
* EMT & Fire Training Inc. is a Proprietary School registered with the Idaho Board of Education. In addition, the school is recognized as a training institution by the Idaho Department of Emergency Medical Services and is organizationally accredited by the Commission on Accreditation for Pre-Hospital Continuing Education "CAPCE" (Formerly the Continuing Education Coordinating Board of EMS "CECBEMS").
Refund Policy: Refunds must be requested before completing 4 lectures and within 30 days of purchase.
Do you need test prep with this refresher? Get 10% off the price of this refresher and the test prep by purchasing both products together now. Just add them to your cart to see the discount automatically applied!