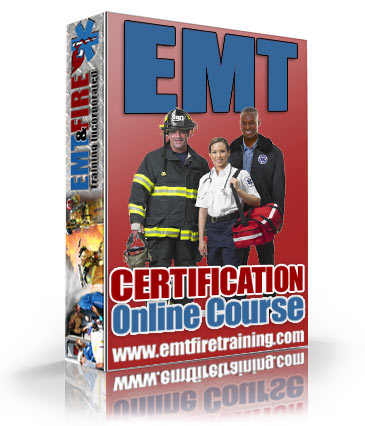 Click Here To Choose A Skills Week And Enroll
This Online EMT Course is Accepted for NREMT Certification.
This Online EMT training course is a self directed (start today!), interactive, distance learning course that is accepted for NREMT Certification. The course curriculum covers all EMT knowledge and skill requirements for the new EMT National Education Standards (NES).
If you are a self motivated, goal oriented student who enjoys being challenged then this is a great educational opportunity. If you are looking for an easy route to NREMT EMT Certification then this course is NOT for you.
Upon successful completion of this course a student will be authorized to take the National Registry of Emergency Medical Technicians (NREMT) practical skills and cognitive examinations. After passing the examinations the student will be awarded NREMT EMT Certification. These certification exams are used as basis for state licensure or certification in most states, or are honored with reciprocity during the licensure process.
Download this flow chart:
How to Become an NREMT Certified EMT Using Our Courses.


What you get when you enroll in this EMT Course

• 24 hour online access to EMT & Fire Training Self Paced Learning Management System (LMS).
All of the didactic portion of the course is completed online in the LMS. This includes recorded lectures, videos, quizzes, exams and interactive activities.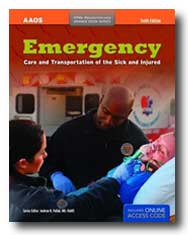 • Textbook and Workbook for EMT.
When you complete your enrollment your book/s are shipped from the publisher Jones & Bartlett. We are currently using AAOS Emergency Care and Transportation of the Sick and Injured 10th Edition for the EMT course. This book and our course includes the new National Education Standards (NES) that follow the new EMT scope of practice.


• 24 hour Instructor Helpdesk.
Students can use email, live chat or the LMS chat system to communicate with instructors 24 hours a day. Typically a live instructor is only available during normal business hours, but leaving a message will ensure a prompt reply. In cases where a student needs to speak to an instructor by phone, we will be happy to arrange a time to call you.


• AHA Health Care Provider CPR Certification.
This EMT course includes a full AHA Health Care Provider CPR Course. You will be issued your AHA Health Care Provider CPR Card upon successfull completion.


• Hazardous Materials First Responder Awareness
This EMT course includes a Hazardous Materials First Responder Awareness Level Certification upon successful completion.


• 5 days of Hands on, Professional Instruction at our Training Facilities in Post Falls, Idaho.
The final portion of the EMT course is the hands on instruction. Once the student has completed and passed the online course work they must attend and pass 5 days of hands on practical training. Dates for these trainings are available on the calendar as well as the enrollment form. You must choose a practical skills week to attend during the enrollment process. See calendar for scheduled practical skills weeks


•Single Occupancy Room for 5 nights.
Standard queen bed room at Templins. All accommodations are included in the price of the course.


• All Meals Provided at EMT Training Center.
The food at the training center is exceptional. Not something you would expect from an EMS training institution. Each student is provided 3 all you can eat meals a day. Common fare includes fresh deli sandwiches, chicken alfredo, fresh fruit salad, spring greens salad, burritos, brownies....the list goes on.* A vegetarian choice is provided at each meal.


• Snacks and Beverages available all day.
Student's don't just get hungry and thirsty at meal time so we provide granola bars, apples, oranges, bananas, juice, coffee, tea, water and soda all day.


•Indoor Swimming Pool, Hot tub and Workout room
These facilities are available to students when not in training.


• Wi-Fi Provided at EMT Training Center.
Students are encouraged to bring their laptop computers if they have one. Wi-Fi is available throughout the training center.


• 2 EMS Academy T-shirts.
100% cotton, pre-shrunk, it does not get any better than that.


• Personal Stethoscope & Blood Pressure Cuff.
All students in our EMT courses get their own stethoscope, BP cuff and CPR mask to take home at the completion of the course.


• Liability Insurance.
EMT & Fire Training Inc. provides each student with liability insurance for completing the required 10 patient contacts with an ambulance agency, hospital or fire department. If the agency or institution requests, we will send a certificate of liability directly to them to verify your coverage.


• Clinical Rotation Time if Needed.
If a student is unable to obtain the necessary 10 patient contacts with an ambulance agency, fire department or hospital, we can arrange for those contacts during practical skills week.


• Realistic Moulaged Scenarios.
During skills week, students in teams of two, respond and treat realistic patients with a variety of medical conditions and trauma injuries.


• NREMT Test Preparation from EMT-National-Training.com
EMT National Training is the top of the food chain for NREMT cognitive exam preparation and you get it FREE as long as you need it. Used by over 89,000 EMT's and Paramedics to study for the NREMT exam, there is nothing on the market that even compares.


• Transportation to and from Spokane International Airport (Sunday and Friday).
A shuttle bus or van depending on the class size will be waiting for students at the airport. The training center is about an hour away from the Spokane International Airport.
NREMT EMT Online Course
$3,995.00
(Self paced distance learning course + All inclusive skills week)

To Register for the course, please select the skills week below that you would like to attend. The skills week is the culminating event of the course, and all online coursework must be done prior to attending academy for the hands on training. This course is 'Work At Your Own Pace' so select a skills week that reflects the amount of time you want to spend doing the course work. The average student takes between 4-6 months to complete the online work but you can complete it more quickly if you are able.
To Enroll Click On The Skills Week That You Want To Attend
EMT Courses
Enrolled
Start Anytime After
Skills Week
May 2016 Academy
FULL
FULL
EMT - May 15th - 19th, 2016
August 2016 Academy
FULL
FULL
EMT - Aug 7th - 11th 2016
October 2016 Academy
FULL
FULL
EMT - Oct 16th - 20th, 2016
January 2017 Academy
FULL
FULL
EMT - Jan 22nd - 26th, 2017
March 2017 Academy
FULL
FULL
EMT - Mar 12th - 16th, 2017
May 2017 Academy
FULL
FULL
EMT - May 21st - 25th, 2017
August 2017 Academy
14/25
Now
EMT - Aug 20th - 24th, 2017
October 2017 Academy
8/25
Now
EMT - Oct 1st - 5th, 2017
February 2018 Academy
1/25
Now
EMT - Feb 4th - 8th, 2018
March 2018 Academy
0/25
Now
EMT - Mar 18th - 22nd, 2018
May 2018 Academy
0/25
Now
EMT - Apr 29th - May 3rd, 2018
September 2018 Academy
0/25
Now
EMT - Sep 2nd - 6th, 2018
October 2018 Academy
0/25
Now
EMT - Oct 14th - 18th, 2018
Prerequisites:
• Agreement to all terms of our Student Application Agreement. Please read this Application Agreement in full now. It is also presented during the enrollment process.
• Good computer skills. This class is not for those just learning how to navigate the internet.
• High speed internet connection for viewing video lectures and activities.
* EMT & Fire Training Inc. is a Proprietary School registered with the Idaho Board of Education. In addition, the school is recognized as a training institution by the Idaho Department of Emergency Medical Services.
---