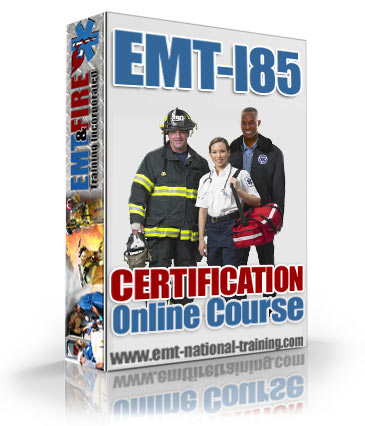 This EMT-I85 course is NO LONGER OFFERED.The new level for NREMT is Advanced Emergency Medical Technician (AEMT). You can review the course and and requirements here.
This Online EMT Intermediate (I85) training course is a self directed (start today!), interactive, distance learning course that is approved for NREMT EMT-I85 Certification. The course curriculum covers all EMT Intermediate I85 knowledge and skill requirements.
If you are a self motivated, goal oriented EMT-B who enjoys being challenged then this is a great educational opportunity. If you are looking for an easy route to NREMT EMT I85 Certification then this course is NOT for you.
Upon successful completion of this I85 course a student will be authorized to take the National Registry of Emergency Medical Technicians (NREMT) Intermediate 85 practical skills and cognitive examinations. After passing the examinations the student will be awarded NREMT Intermediate 85 Certification. These certification exams are used as basis for state licensure or certification in most states, or are honored with reciprocity during the licensure process.
Download this flow chart:
How to Become an NREMT Certified EMT Using Our Courses.


What you get when you enroll in this EMT Intermediate 85 Course

• 24 hour online access to EMT & Fire Training Self Paced Learning Management System (LMS).
All of the didactic portion of the course is completed online in the LMS. This includes recorded lectures, videos, quizzes, exams and interactive activities. (During our transition period we are not able to provide recorded lectures for every chapter. They are being developed and posted. You will need to read each chapter and do the interactive activities and assignments for the chapters that don't have a lecture recorded yet.)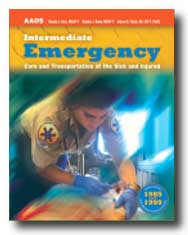 • Textbook only for EMT Intermediate 85.
When you complete your enrollment your book is shipped from the publisher Jones & Bartlett. We are currently using AAOS Intermediate Care and Transportation of the Sick and Injured 1st Edition for the Intermediate 85 course (This textbook also includes information for the Intermediate 99 level, which we do not offer). We will be transitioning books in the near future and adopting the second edition book by the same title. This new book is designed to follow the new Advanced EMT level as established by the National EMS Educational Guidelines. We will still be teaching the Intermediate 85 curriculum for the next year, but will be utilizing the newer textbook, which is more user friendly.


• 24 hour Instructor Helpdesk.
Students can use email, live chat or the LMS chat system to communicate with instructors 24 hours a day. Typically a live instructor is only available during normal business hours, but leaving a message will ensure a prompt reply. In cases where a student needs to speak to an instructor by phone, we will be happy to arrange a time to call you.


• 5 days of Hands on, Professional Instruction at our Training Facilities on Hayden Lake, Idaho.
The final portion of the EMT Intermediate 85 course is the hands on instruction. Once the student has completed and passed the online course work they must attend and pass 5 days of hands on practical training. Dates for these trainings are available on the calendar as well as the enrollment form. You must choose a practical skills week to attend during the enrollment process. We are flexible with students changing their skills week as long as it is done 30 days or more prior to the scheduled week. See calendar for scheduled practical skills weeks


• Single Occupancy Lakefront Bunk Room for 5 nights.
These accommodations are modest, but adequate for most people. There are 5 bunk rooms to a floor with 2 bathrooms. Each bunk room does have it's own sink. Rooms with larger beds and private bathrooms are available at an additional charge and on a first come first serve basis.


• All Meals Provided at EMT Training Center Lodge.
The food at the training center is exceptional. Not something you would expect from an EMS training institution. Each student is provided 3 all you can eat meals a day. Common fare includes fresh deli sandwiches, chicken alfredo, fresh fruit salad, spring greens salad, burritos, brownies....the list goes on.* A vegetarian choice is provided at each meal.


• Snacks and Beverages available all day.
Student's don't just get hungry and thirsty at meal time so we provide granola bars, apples, oranges, bananas, juice, coffee, tea, water and soda all day.


• Indoor Heated Swimming Pool and Lakeside Jacuzzi.
Again not something you normally associate with an EMS training institution, but we have not had any complaints so far. The pool is used for a short water rescue class. The pool and the jacuzzi are available to students when not in training.


• Wi-Fi Provided at EMT Training Center.
Students are encouraged to bring their laptop computers if they have one. Wi-Fi is available throughout the training center.


• 2 EMS Academy T-shirts.
100% cotton, pre-shrunk, it does not get any better than that.


• Personal Stethoscope & Blood Pressure Cuff.
All students in our EMT courses get their own stethoscope, BP cuff and CPR mask to take home at the completion of the course.


• Liability Insurance.
EMT & Fire Training Inc. provides each student with liability insurance for completing the required 10 patient contacts with an ambulance agency, hospital or fire department. If the agency or institution requests, we will send a certificate of liability directly to them to verify your coverage.


• Clinical Skills Expectations.
The bulk of your hands on training will be performed during the EMS Academy week. We do require that you initiate a minimum of 10 IV's, demonstrate competency in advanced airway management (Including ET, Combi-Tube, LMA, and King Airway devices), perform comprehensive assessments, and develop treatment plans for patients of various age groups. You will also spend clinical time in a local Emergency room performing these same skills. Intermediate students need to bring the following uniform for clinicals: black boots or shoes, black belt (optional), and navy or tan pants (no jeans). You also need to bring a copy of your immunization records and be able to show proof of a TB test done within the past 12 months. If you are unable to provide this information you will not be allowed to do any shifts at the hospital. However, you will still be allowed to complete your skills at the training center and complete the course.


• Realistic Moulaged Scenarios.
During every skills week, students in teams of two, respond and treat realistic patients with a variety of medical conditions and trauma injuries. The Intermediate student will be able to form a comprehensive assessment and treatment plan for these patients. This will include identifying and managing any life threatening illnesses or injuries. Patients vary in age from pediatric to geriatric depending on the availability of our 'patients.' There is also an emphasis on properly utilizing the NREMT assessment skills sheets during this process to better help you prepare for your psychomotor exam.


• NREMT Test Preparation from EMT-National-Training.com
EMT National Training is the top of the food chain for NREMT cognitive exam preparation and you get it FREE as long as you need it. Used by over 50,000 EMT's and Paramedics to study for the NREMT exam, there is nothing on the market that even compares.


• Transportation to and from Spokane International Airport. (Sunday and Friday).
A shuttle bus or van depending on the class size will be waiting for students at the airport. The training center is about an hour away from the Spokane International Airport.
DOT NREMT EMT Intermediate 85 Online Course
$2,995.00
(Self Paced Course)
Choose Your Course and Skills Week Dates - Click to Enroll
EMT Courses
Enroll
Class Starts
Skills Week
LIMBO
FULL
FULL
LIMBO
Fort Jones Fire
FULL
FULL
Fort Jones Fire
EXPIRED APPLICATIONS
FULL
FULL
EXPIRED
EMT-I85 course is not longer offered.
The new level for NREMT is Advanced Emergency Medical Technician (AEMT). You can review the course and and requirements here.

Prerequisites:
• You must have an existing EMT-B certification or license
• Agreement to all terms of our Student Application Agreement. Please read this Application Agreement in full now. It is also presented during the enrollment process.
• Good computer skills. This class is not for those just learning how to navigate the internet.
• High speed internet connection for viewing video lectures and activities.
* EMT & Fire Training Inc. is a Proprietary School registered with the Idaho Board of Education. In addition, the school is recognized as a training institution by the Idaho Department of Emergency Medical Services.
---