Q. Can I become a certified and licensed EMT in Maryland if I take the EMT & Fire Training EMT Course?
A. Yes. Once you complete an EMT & Fire Training EMT (Basic) Course and pass your NREMT practical and cognitive exam, you will receive an NREMT certificate. This certificate can be used to apply for licensure with the state of Maryland through "Reciprocity."
Q. Does Maryland require any extra EMT training that EFT does not provide in its course?
A. Yes. After you have submitted your reciprocity application, you will need to enroll in and successfully complete a minimum of a twelve-hour Maryland EMT Skills Refresher Course, as approved by MIEMSS. You must also be affiliated with an approved pre-hospital EMS agency.
Q. How do I recertify for EMS in the State of Maryland?
A. A current and valid NREMT Certification can be used for renewal of your Maryland EMT Certification. This, or the completion of a Basic 24 hour EMT Refresher, will allow you to apply for your renewal.
Q. I failed the NREMT exam 3 times already. Will your 24 Hour Online EMT Refresher allow me to retest with the NREMT?
A. Yes. Once you pass our 24 Hour EMT Online Refresher course you will have 3 more opportunities at taking the NREMT Exam. The Course is accepted by the NREMT and covers all 24 hours of the Mandatory Core and Content required. To insure that you pass on your next attempt you can practice for the exam with our test prep site.
Contact Information for Maryland State EMS
Firefighter
Q. Does the state of Maryland accept IFSAC Certification for reciprocity?
A. Maryland utilizes the NFPA standards for Firefighter Certification. IFSAC certified firefighters are trained with the NFPA standards.
Contact Information:
Maryland Fire Service Personnel Qualifications Board Contacts: http://www.mfri.org/mfspqb/contacts.html
For questions about National Certification with IFSAC or ProBoard, contact the Certification Office: (301) 226-9926
Maryland Fire and Rescue Institute
University of Maryland
4500 paint Branch Parkway
College Park, MD 20742
Toll Free: 1-800-ASK-MFRI (1-800-275-6374)
Phone: (301) 226-9900
FAX: (301) 314-0686
Learn how to become an EMT in Baltimore, Rockville, Frederick, Gaithersburg, Bowie, Hagerstown, Annapolis, Salisbury, College Park, Laurel, Greenbelt, Cumberland, Takoma Park, Westminster, Hyattsville, Elkton, Easton, Aberdeen, Havre de Grace, New Carrollton, Cambridge, Bel Air, La Plata, Mount Airy, Mount Rainier, Frostburg, Bladensburg, Ocean City, Riverdale Park, Cheverly, Glenarden, Thurmont, District Heights, Poolesville, Walkersville, Hampstead, Taneytown, Brunswick, Chestertown, Seat Pleasant, Fruitland, Sykesville, and throughout the state of Maryland
---
State Requirements and Details for Certifications and Courses with EMT & Fire Training Inc.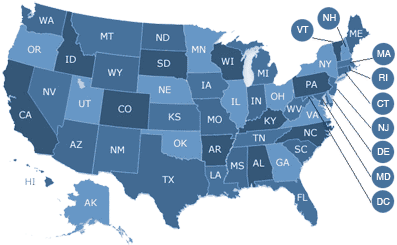 ---