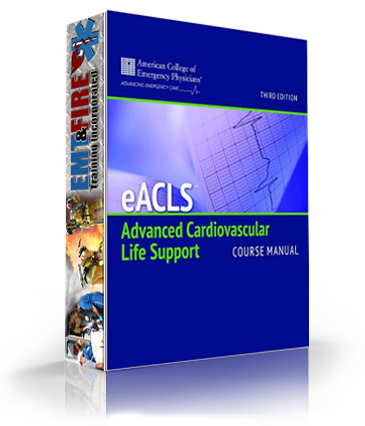 EMT & Fire Training Inc. has partnered with Jones & Bartlett to bring you a convenient and affordable way to complete your ACLS training online. This eACLS training course covers the eight advanced cardiac life support topics required for certification and recertification:
Acute Coronary Syndromes
Asystole
Bradycardia
Pulseless Electrical Activity
Stroke
Tachycardia (Narrow Complex)
Tachycardia (Wide Complex)
Ventricular Fibrillation
The eACLS course can be completed in a few hours in the comfort of your own home or office. Once completed you will need to pass a 40-question final exam with a score of 80% or better.
This course will also provide you with 8 hours of continuing education accredited by CECBEMS and ACEP.
No ACLS skills test is required for most practicing health care professionals!
This online ACLS course was created for busy health care professionals, including Paramedics, Physicians, Nurses, Physician's Assistants and others who are required to have ACLS certification.This ACLS course was created to meet all the requirements of regulatory authorities for initial and refresher advanced cardiac life support (ACLS) training in accordance with the 2010 Guidelines for Cardiopulmonary Resuscitation and Emergency Cardiovascular Care.
If you are a practicing health care professional that regularly performs resuscitation and advanced cardiac life support (ACLS) procedures as part of your job, then no practical skills test is required to earn your official eACLS Course Completion Card. Simply print the eACLS Skills Verification Form and have your hospital or clinical supervisor complete the form verifying your clinical skills training and current skills competence based on the eACLS Skills Testing Guidance Document.